About Pilar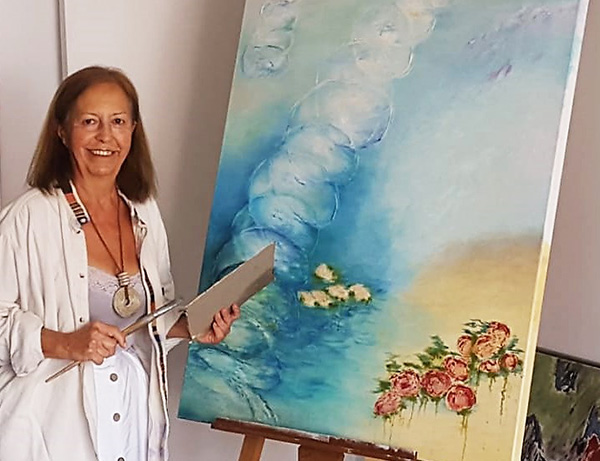 "The rich imaginary of Pilar Debitonto is revealed in her pictorial metaphors of remarkable sensitivity... Debitonto in search of a personal style, has conducted a thoughtful analysis of the medium and plastic art elements. This is perceived in the freedom with which she elaborates the refined surfaces of her paintings, privileging the matter, physical material, as fundamental reason of her artistic work.... The use of color, turned over to matter to make it more powerful and energy-charged, is another of the highlights in these works."

Sarah Guerra, member of the International Critics Association
Artistic Career
Artist of Italian-River Plate extraction, Pilar Debitonto is born in Montevideo, Uruguay, and lives since 1975 in the northern area of the Greater Buenos Aires, Argentina, where she continues to reside near the water and unmistakable skies of the Río de la Plata, as well as the vivid Paraná river's delta, major sources inspiration throughout her prolific work history.
Of Italian descendance and nationality, the Art always plays a leading role at home, since little she attends workshops of prominent plastic artists in both countries, mastering different techniques, drawing, painting with oil, acrylic and watercolor. To the present she continues constantly growing her theoretical knowledge of the Art and Art's history throughout courses and worldwide traveling.
In the '80s she joins the Plastic Art Group Acassuso led by Maria Luisa Majtan, with whom she gets introduced to the batik technique. Along those years she takes part in exhibitions and competitions where her work receives several distinctions. Her style evolves through constant search and experimentation.
Today her painting is not a projection of reality but the objectification of the intangible.
Her work was announced, published and commented on by media in both Uruguay -El País 'The Country', La Repúbica 'The Republic', Radio Sarandí, Revista El Sol 'El Sol Magazine' and Canal 5 de Colonia 'Channel 5 of Cologne'- as in Buenos Aires -La Nación 'The Nation', La Prensa 'The Press', Clarín, Arte al Día 'Art of the Day', Revista Magenta 'Magenta Magazine', Come On Baby de Cablevisión and Alto Nivel 'High Level' de Plus Satelital. The Latin American Plastic Arts Yearbook published her work in volume XIII.
Debitonto's works today are part of private collections in Uruguay, Argentina, France and the United States.
See Biography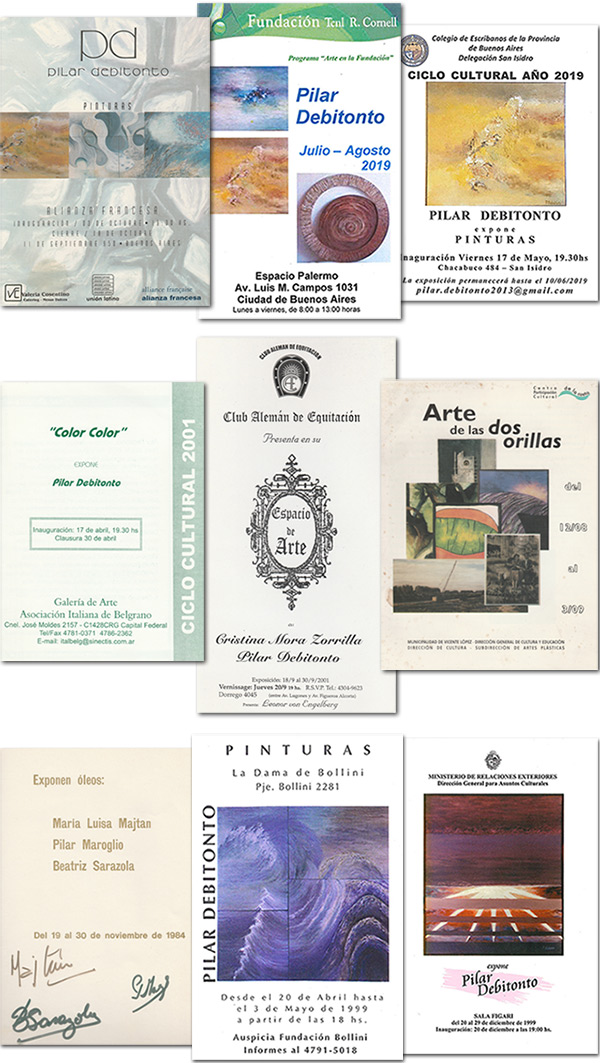 Past Exhibitions
(1983-2019)
Cornell Foundation - Military Life Insurance Association - Central Branch, in Ciudad Autónoma de Buenos Aires
Notaries Association of San Isidro, Buenos Aires
Cornell Foundation - Military Life Insurance Association - Palermo Branch, in Ciudad Autónoma de Buenos Aires
Museum of Prilidiano Pueyrredón in San Isidro
Bar Association of San Isidro
Secretariat of Culture's House of Tigre
Art Space at Hebraic Society in Martinez
Gallery Cascale in Ciudad Autónoma de Buenos Aires
Delta's Industrial Expo-fair in San Fernando
Secretariat of Culture of Vicente López - Paseo de la Costa 'Costal Walk'
Buenos Aires City Club Anniversary's Exhibition in CABA
Bollini Foundation "IV Meeting of Painters and Cartoonists with Bollini"
"Painting Room" at German Gymnastics Society in Olivos
Gallery The Lady of Bollini: Solo Exhibition
Art Space at German Equestrian Club
Museum of the Romulo Raggio Foundation in V. López "Planeta XXI, the century we inhabit"
Cultural Center of Bastion del Carmen in Colonia, Uruguay: Solo exhibition
Gallery Marizú Tersa in Ciudad Autónoma de Buenos Aires
Gallery Solanas in Punta del Este, Uruguay
Chancellery of Uruguay, Room Pablo Figari: Solo Exhibition
French Cultural Alliance in Belgrano: Solo exhibition
See Artistic Career